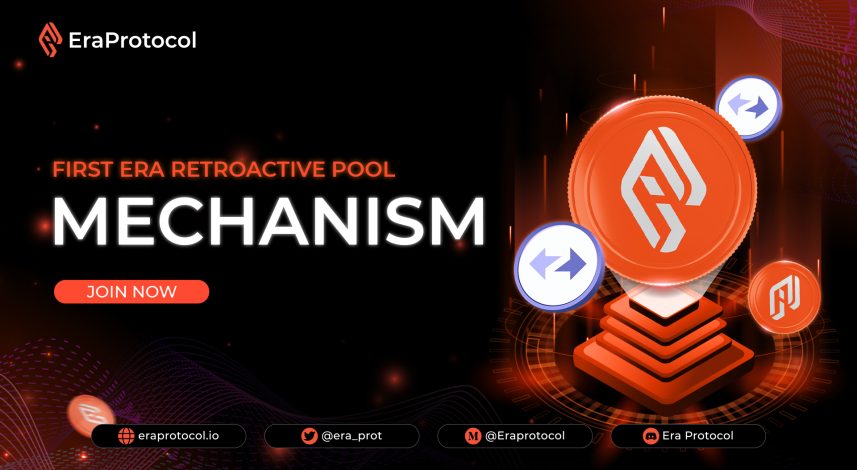 Following the hit of zkSync's potential airdrop program, the first Era Retroactive Pool on this network will be available on 15th June. This article will walk you through the basic mechanism of this program, answering some key questions:
How to join Era Retroactive pool on zkSync
How the rewards will be distributed
An overview of Era Retroactive Pool on zkSync
Following the big hit of Abitrum Airdrop, hunting airdrop is now hotter than ever. However, being a part of the big game is not easy. For individuals with limited time and money, joining an airdrop campaign is too complicated and costly without the certainty of winning a bit.
To address this problem, Era Protocol opens the Era Retroactive pool, allowing users to commit themselves to retroactive campaigns by depositing a certain amount of money in exchange for a guaranteed NFT Ticket. All revenue from the sale of the NFT will be deposited into the retroactive pool, which will serve the purpose of engaging with the airdrop program.
Era Retroactive Pool Mechanism
3 rounds of the first retroactive pool
There will be 3 rounds of buying tickets, with different tickets price. You can buy tickets at any round that you want, however, Early bird got the worms – The sooner you buy tickets, the lower price you need to pay.
Round 1: 20$/Ticket – Refund: 14$/Ticket
Round 2: 25$/Ticket – Refund: 14$/Ticket
Round 3: 30$/Ticket – Refund: 14$/Ticket
Rewards and refund mechanism
Rewards and refund mechanism
In case the campaign is successful, users will receive 70% (the remaining 30% for covering the airdrop execution fee, e.g. transaction fee) of the total retroactive reward and a refund of 14$/Tickets.
If, unfortunately, the campaign is not qualified for the airdrop, users will receive a refund based on the value of guaranteed NFT, rather than losing everything as is common in other retroactive campaigns.
For more information about how the Era Reactive Pool work, check out the infographic below: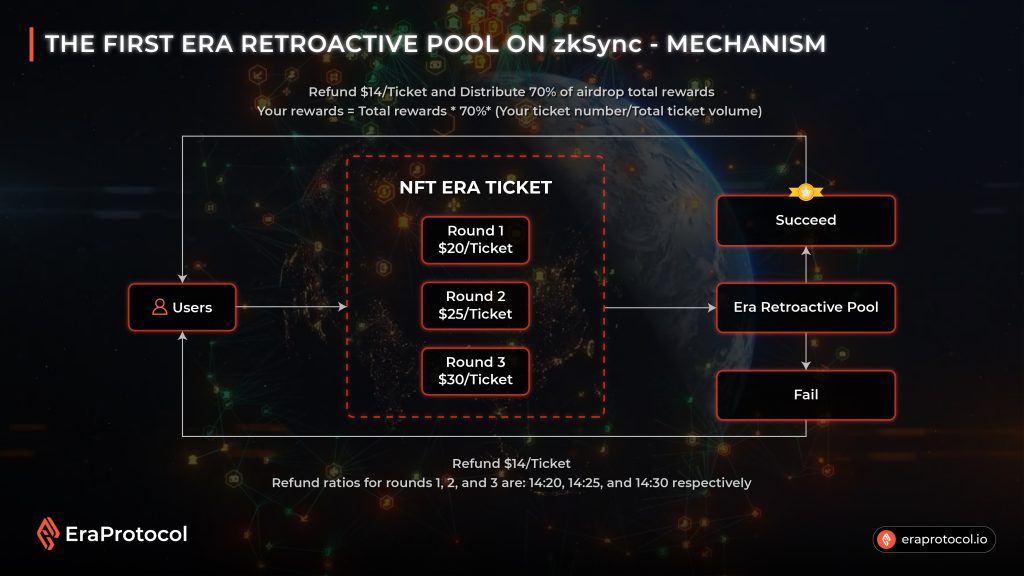 As you can see, once buying tickets in the first round, the refund mechanism ensures that you will never lose over 30% of your initial capital (get a refund of 70%). The sooner access, the lower risk-bearing.
Buy tickets now to be a part of the big game.