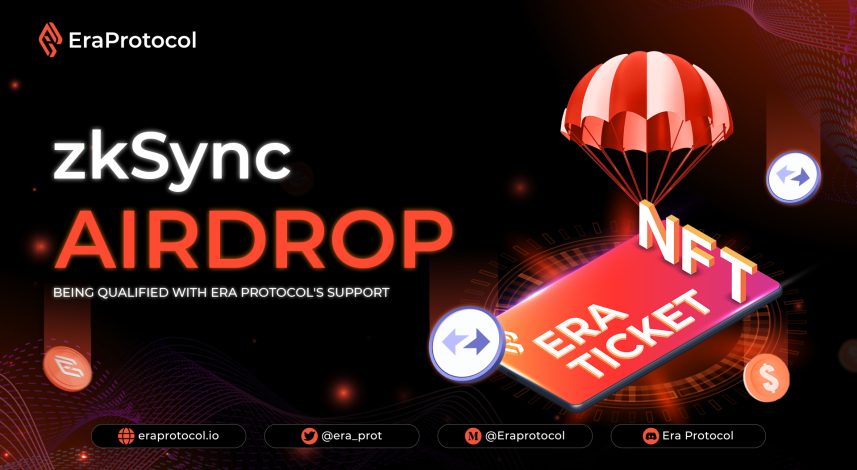 Following the big hit of Abitrum Airdrop, hunting airdrop is now hotter than ever. However, being a part of the big game is not easy. For individuals with limited time and money, joining an airdrop campaign is too complicated and costly without the certainty of winning a bit. To address this problem, Era Protocol opens Era Retroactive pool to support airdrop hunters in optimizing their money-making process.
zkSync Airdrop
Built on the concept of zero-knowledge rollups (ZKRs), zkSync provides users with enhanced security and transaction efficiency. Leveraging the Ethereum network's robustness, zkSync also offers significantly reduced gas fees, making transactions more cost-effective.
Although we don't know for certain whether zkSync will actually airdrop tokens yet, on 16/11/2022, zkSync announced that ⅔ of the total token supply would be allocated for ecosystem development. That announcement lit up the crypto lover a hope of a huge airdrop program.
Higher risk – higher return?
It is likely that zkSync Era will airdrop similar to Arbitrum, along with some fundamental conditions, such as:
Bridge at least 10 times with a volume of $1000.
Provides minimum liquidity of $1000.
Swap with a minimum volume of $1000.
Make at least 100 transactions on the network
Do not transfer tokens or NFT between 2 different wallets.
Use the network for at least 2-6 months.
The transaction fee on zkSync is unstable and usually very high. Thus, completing all these tasks is costly and risky due to the fact that each individual might need to complete several tasks with the exchange volume at about $5K to $10K without a certainty of being qualified for the airdrop.
So, how individuals with limited resources being involved? Here comes the support from Era Protocol.
Easily join with the support of Era Protocol
To address the concern of risk and cost while joining a massive airdrop like zkSync, we open the first Era retroactive pool to gather the community resources and higher the chance of being qualified for the airdrop.
To be more specific, Era Protocol allows users to commit themselves to retroactive campaigns by depositing a certain amount of money in exchange for a guaranteed NFT Ticket. All revenue from the sale of the NFT will be deposited into the retroactive pool, which will serve the purpose of engaging with the airdrop program. Based on years of experience in cryptocurrency and retroactive hunting, Era protocol ensures implement all the tasks quickly, effectively, and cost-saving.
The first Era Retroactive Pool will soon be open on 15th June 2023. Following that, there will be 3 rounds of buying tickets (with different prices).
To minimize the risk of joining the airdrop program, Era Protocol ensures a refund for all users ($14/Ticket) in any case.
More specifically, If the campaign succeeds, users will receive 70% of the total rewards, and a refund ($14/Ticket).
If, unfortunately, the campaign is unsuccessful, users will receive a refund based on the value of guaranteed NFT, rather than losing everything as is common in other retroactive campaigns.
For more details on how we support users joining zkSync, check out the diagram below:
With Era Protocol's Support
Without Era Protocol's Support
Tasks required
Own NFT Era Ticket
(Automatically being registered for the airdrop, no further action requires)
Several Tasks, such as:
– Using the official zkSync bridge
– Using the zkSync Lite bridge
– Donating zkSync through Gitcoin
– Engaging with the ecosystem
– Joining the zkSync Discord and completing tasks on Crew3.
Initial capital and transaction fee
20$ – 30$/Ticket

All transactions of all users are
combined into one transaction
package
Each individual makes several transactions with $5k – $10K with a ton of gas fee
Rewards and the risk of losing money
Success: Users get 70% of total airdrop rewards and a refund (14$/ticket)

Fail: Get a refund (14$/ticket)
Lower chance of being successful (with small capital)

Lose all money if being failed
As you can see, with the support of the Era Protocol, users will do less but still gain more chances of being qualified for the airdrop. In addition, because of the refund mechanism, joining the Era retroactive pool will give lower the risk of losing all money.
High return without high risks! Sound good right? Buy tickets to be a part of the game now!