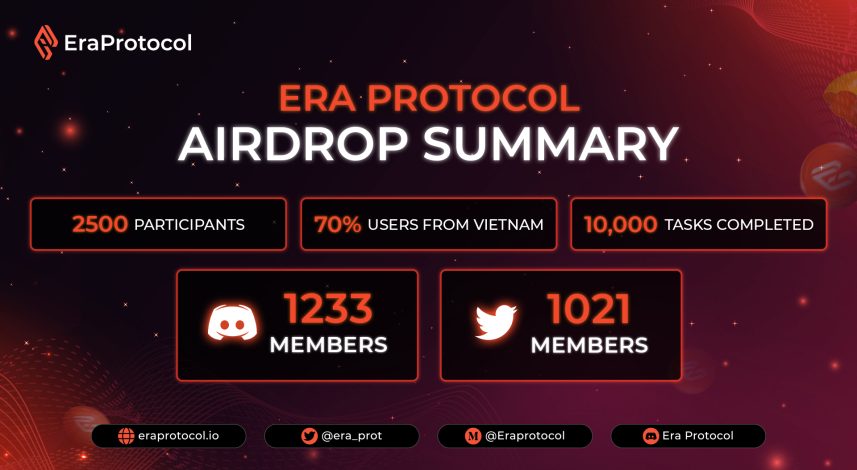 The Era Airdrop program recently concluded, capturing the attention and participation of cryptocurrency enthusiasts worldwide. Over the course of two weeks, participants engaged in a variety of tasks to be eligible for exciting rewards. Let's delve into the statistical details that showcase the program's success.
Introduce Era Protocol Airdrop program
Rules of Participation
The Era Airdrop program was designed with the objective of attracting new members to the Era ecosystem by offering exciting rewards and incentives. To become one of the lucky winners of Era, participants enthusiastically completed the 4 following tasks:
Following Era's Twitter account
Joining the Discord community
Retweeting, inviting others to Discord
Submitting wallet address.
The impressive level of engagement was evident as participants completed a whopping 10,000 tasks throughout the Airdrop program.
Rewards
Winners will receive NFTs and USD based on their ranking. This is an exciting opportunity to receive special rewards and participate in the Retroactive pool with great potential. In particular, the NFTs from the Airdrop have the following distinctive features:
Non-transferable
Chance to receive Airdrop rewards worth 50 times the value of NFT
Automatic enrollment in Era's first Retroactive pool without any additional steps required and effort. Spoiler: The rewards you can receive from the Era Retroactive can be ENORMOUS!
Airdrop Pool
Reward Pool: The Era Airdrop program allocated a substantial reward pool amounting to $4,000 (including 350 NFTs and $USDT reward).
Program Duration: The Era Airdrop program spanned a duration of two weeks, running from May 18th to May 31st, 2023.
Total winners: There are 350 lucky winners receiving many exciting Era's rewards after Airdrop ends.
Era Protocol Engagement
Participation
The Era Airdrop program witnessed an overwhelming response, with a total of 2,500 users actively engaging and participating across the web or Gleam platforms. The Era Airdrop program has not only attracted a large number of participants but has also fostered a sense of community and camaraderie among its members.
Top Participant Countries:
Among the 2,500 participants, three countries stood out with their remarkable engagement and enthusiastic response to Era's Airdrop program.
Vietnam (80% total users)
Indonesia (11% total users)
Bangladesh (4% total users)
The strong presence of Vietnam, combined with the growing interest from Indonesia and Bangladesh, creates a vibrant community that fuels Era's success.
Conclusion:
The Era Airdrop program successfully attracted a significant number of participants, fostering engagement and expanding the Era community with 2,500 active users and 10,000 completed tasks and the substantial $4,000 reward pool. Era expresses gratitude to all participants for your active involvement and looks forward to providing more opportunities to engage and reward its growing community.