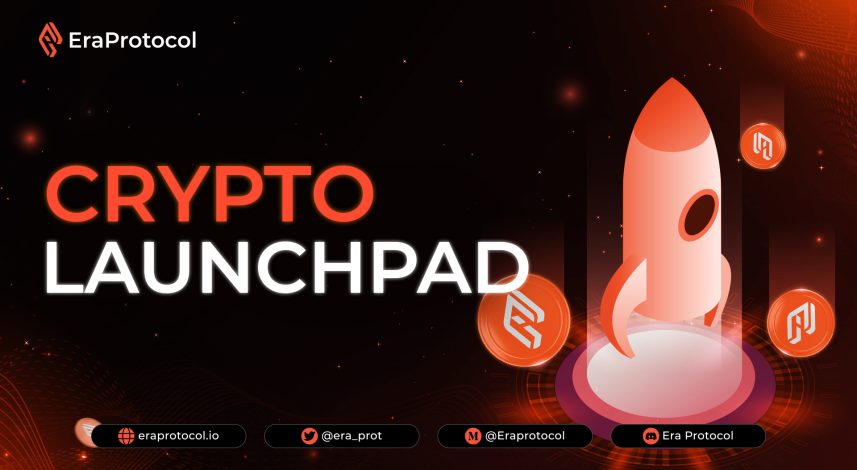 In the fast-paced world of cryptocurrencies and innovative platforms, offering exciting investment opportunities and ways to participate in groundbreaking projects. One such platform that has gained significant popularity recently is Crypto LaunchPad which will be discussed in this article.
What is a LaunchPad?
A crypto launchpad is a decentralized platform where new crypto projects secure funding and gain exposure. Investors participating in these projects can purchase new tokens at a lower price before they are publicly available on the market.
It offers early-stage token sales at lower prices before public listing, attracting both investors and founders. Trusted launchpads conduct due diligence and verification, providing a safer investment environment. They mitigate risks and connect projects with cryptocurrency investors.
How Does a LaunchPad Work?
LaunchPads typically operate on the principles of Initial Coin Offerings (ICOs) or Initial Exchange Offerings (IEOs). They facilitate token sales by conducting a controlled and regulated fundraising process. Here's a breakdown of the typical workflow on a LaunchPad:
Project Selection: The LaunchPad team performs thorough due diligence to identify promising projects with strong fundamentals and innovative ideas.
Token Allocation: Once a project is selected, LaunchPad determines the token allocation for the public sale, including the price and token distribution mechanism.
Whitelisting and KYC: Potential investors are required to complete a Know Your Customer (KYC) process and get whitelisted to participate in the token sale.
Token Sale: The LaunchPad conducts the token sale event, allowing investors to purchase the project's tokens using the LaunchPad's native currency or other accepted cryptocurrencies.
Post-Sale Support: LaunchPads often provide ongoing support to the projects they launch, assisting with liquidity, market-making, and fostering community engagement.
There are several common types of Crypto Launchpads:
Initial DEX Offering (IDO): IDO launchpads allow token sales for assets hosted on decentralized exchanges (DEXs). Investors can participate in token sales directly on the platform, leveraging the liquidity of DEX. Some well-known IDO launchpads include FireStarter, BSCPad, GameFi, TrustPad, etc.
Initial Coin Offering (ICO): ICO launchpads enable founders to raise funds for their blockchain projects by offering tokens to investors. These launchpads provide a platform for token sales, allowing investors to contribute to promising projects with the expectation of potential returns. Notable ICO launchpads include CardStarter, Binance Launchpad, and Polkastarter.
Initial Game Offering (IGO): IGO launchpads focus on providing funding opportunities for game and metaverse developers. Game developers can leverage IGO launchpads to raise funds for their gaming projects. Examples of IGO launchpads include Gamestarter, Enjinstarter, and PlayPad.
Crypto launchpads have revolutionized the way projects raise funds and investors access early-stage investment opportunities in the crypto space. They provide a structured and secure environment, benefiting both crypto projects and individual investors.
Benefits of Crypto LaunchPad
Crypto launchpads offer several advantages to both blockchain-based projects and individual investors.
For Projects, Founders, and Developers
Access to Funding: Launchpads provide a platform for projects, founders, and developers to raise funds and gather financial support from a wide range of investors. This enables them to secure the necessary capital for development, marketing, and expansion.
Increased Visibility: By listing their token on a launchpad, projects gain exposure to a larger audience, which can lead to increased visibility, credibility, and potential partnerships.
Trust and Security: Launchpads conduct due diligence and audits on projects, enhancing trust and confidence among investors. This helps attract more investors who are wary of scams or fraudulent projects, increasing the project's credibility.
Community Building: Launchpads actively engage in community-building activities, fostering a supportive ecosystem around the project. This can lead to valuable feedback, user adoption, and long-term community support for the project's success.
For Individual Investors:
Early Access to Promising Projects: Launchpads provide individual investors with the opportunity to invest in promising crypto, we3 projects during the early stages. This allows them to potentially benefit from the project's growth and success.
Token Discounts and Incentives: Launchpads often offer exclusive discounts, bonuses, or early bird incentives for investors participating in token sales. This can provide better pricing and potentially higher returns on their investments.
Rigorous Project Vetting: Launchpads conduct thorough due diligence and audits on projects before listing them on their platform. This helps filter out potentially fraudulent or low-quality projects, providing investors with a higher level of security and reducing the risk of scams.
Liquidity and Exchange Listings: Collaborating with reputable cryptocurrency exchanges to facilitate the listing of tokens, Launchpads ensures that investors can easily trade their tokens on the open market.
The most popular Crypto LaunchPad platforms
Binance Launchpad: Binance Launchpad boasts the largest user base among launchpad platforms and has pioneered the concept of IEOs. Projects that raise funds through Binance Launchpad undergo strict scrutiny and enjoy the benefits of being listed.
Coinbase Launchpad: Coinbase Launchpad focuses on partnering with projects that demonstrate strong potential and align with its vision. Investors can expect carefully curated projects and a secure investment environment.
Furthermore, introduce one more potential platform to all users. Era Protocol is an emerging launchpad platform that aims to provide seamless token launches and foster community engagement without any effort.
It is known as the pioneering crowdfunding platform on the zkSync network
Era Protocol brings fresh perspectives, early access opportunities to promising projects, and enhanced security for all investors
Projects gain advantages through Era Protocol's launchpad with access to a targeted investor base, credibility, and community-building support.
Conclusion
Crypto LaunchPads play a crucial role in driving innovation and investment within the crypto industry. By offering a streamlined fundraising process, and opportunities for early-stage investments, LaunchPads have become a vital component of the crypto ecosystem.